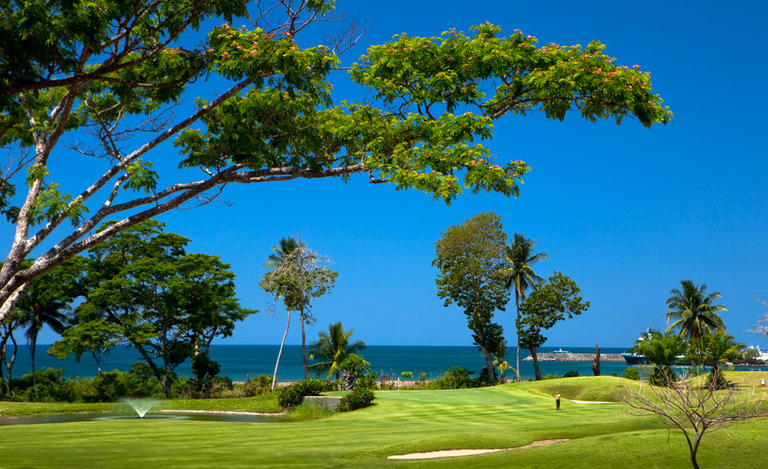 La Iguana Golf Course
The La Iguana Golf Course features 18 championship holes with a 73.4 course rating, par-72 and slope 145. Playing our exotic 6,698-yard Ted Robinson-designed golf course in Costa Rica would be any golfer's dream. The naturally challenging layout will please players of all skill levels.
Our golf course in Costa Rica is richly landscaped to include exotic native plants, banana trees, orchids, monkeys and more than 150 species of birds and local wildlife. PGA-qualified golf professionals, a vast driving range, putting green and TaylorMade rental equipment provide members with the finest of Costa Rica golf facilities and services. No matter what your current level of play, our state-of-the-art facility and equipment will assist you with achieving your golfing goals.
Scorecard
| Hole | 1 | 2 | 3 | 4 | 5 | 6 | 7 | 8 | 9 | Out |
| --- | --- | --- | --- | --- | --- | --- | --- | --- | --- | --- |
| Gold | 578 | 449 | 325 | 545 | 379 | 172 | 324 | 214 | 430 | 3416 |
| Blue | 557 | 425 | 305 | 519 | 360 | 150 | 296 | 164 | 409 | 3185 |
| White | 537 | 387 | 285 | 486 | 341 | 135 | 281 | 146 | 390 | 2988 |
| Red | 480 | 343 | 266 | 443 | 309 | 123 | 261 | 132 | 327 | 2684 |
| Family 1 | 230 | 185 | 165 | 275 | 170 | 72 | 175 | 80 | 175 | 1527 |
| Family 2 | 325 | 275 | 215 | 325 | 230 | 105 | 225 | 103 | 265 | 2068 |
| Futgolf | 29 | 67 | 62 | 28 | 38 | 30 | 44 | 62 | 42 | 402 |
| Handicap | 3 | 5 | 11 | 1 | 13 | 17 | 9 | 15 | 7 | |
| | | | | | | | | | | |
| Par | 5 | 4 | 4 | 5 | 4 | 3 | 4 | 3 | 4 | 36 |
| Hole | 10 | 11 | 12 | 13 | 14 | 15 | 16 | 17 | 18 | In | Total |
| --- | --- | --- | --- | --- | --- | --- | --- | --- | --- | --- | --- |
| Gold | 187 | 505 | 462 | 527 | 188 | 560 | 150 | 338 | 397 | 3314 | 6730 |
| Blue | 155 | 485 | 440 | 509 | 168 | 538 | 130 | 313 | 376 | 3114 | 6299 |
| White | 130 | 466 | 424 | 494 | 145 | 520 | 100 | 285 | 344 | 2908 | 5896 |
| Red | 105 | 432 | 405 | 469 | 119 | 488 | 95 | 251 | 327 | 2691 | 5375 |
| Family 1 | 72 | 240 | 185 | 235 | 75 | 315 | 70 | 160 | 185 | 1537 | 3064 |
| Family 2 | 100 | 315 | 275 | 310 | 85 | 375 | 100 | 251 | 257 | 2068 | 4136 |
| Futgolf | 29 | 67 | 62 | 28 | 38 | 30 | 44 | 62 | 42 | 402 | 804 |
| Handicap | 18 | 6 | 2 | 4 | 16 | 10 | 14 | 12 | 8 | | |
| | | | | | | | | | | | |
| Par | 3 | 5 | 4 | 5 | 3 | 5 | 3 | 4 | 4 | 36 | 72 |